Mathematics
MATHEMATICS

Designated Funds
$538,276.17

ERLC report to support implementation based on regional needs and grant deliverables

Collaboration/Environmental Scan/Needs Assessment

Session feedback and ongoing needs assessment
ERLC Board direction and goals
Joint ATA/ERLC Needs Assessment, Spring 2009
ATA Specialist Council – MCATA participation on mathematics advisory committee.
Consultation with TERM group
Consultation with key Alberta Education Lead Managers and Directors a minimum of twice during the year.
Ongoing collaboration and consultation with Math Advisory Committee

Practice/Goals

Alberta Education grant deliverables
Key program elements of the Mathematics Program of Studies
Link back to needs assessment
Regional Goals specific to work of ERLC
ERLC Math Coordinator

Identify Possible Strategies Fall 2009 Advisory Committee Direction

Refer to Appendices H-2 and H-3 
Additional advisory committee meeting summaries are available on request

Action Plan and Measures

Develop and deliver programs during 2009-2010 that are responsive and flexible and that offer a variety of approaches and opportunities which would include provision for such activities as capacity building, familiarity with the program of studies, etc.
Use program feedback form as primary measure
Sessions are attended
Ongoing consultation with Advisory Committee.

Implement Action Plan

Budget of $538,276.17 as well as infrastructure support provided from the grant.
PD leadership capacity support provided to the region.
Programs feedback. Refer to Appendix H-1

Summative Evaluation

Program feedback. Refer to Appendix H-1
ERLC Board, District Contact, and Mathematics Advisory Committee feedback.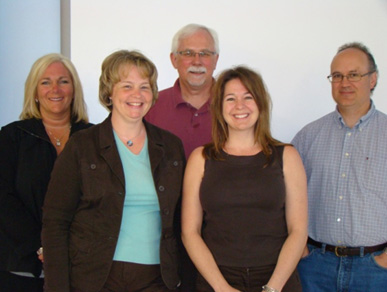 The regional team includes from left to right Debbie Windwick-Petkau, Cathy Campbell, Harry Wagner (ERLC coordinator), Carla Kozak, and John Scammell. Missing from the picture is Greg McInulty who contributed to the work of the regional team.
Data to demonstrate support for implementation provided:
Highlights 2009-2010
K-10 teachers in the ERLC region had access to a wide variety of learning opportunities that included face to face sessions, cohort planning groups, and access via videoconferencing, webinars, and webcasting. These learning opportunities took place mainly during the day, but also included supper and summer sessions. Very few of the learning opportunities were cancelled. Conversely, learning opportunities were added based on teacher feedback and request. An example would be that one four day planning cohort was planned for Mathematics 10C. When that was fully subscribed a second four day planning cohort was added. The result was that many teachers across the region worked with mathematics facilitators to learn about and reflect on their mathematics classroom practice. In total 80 full day learning opportunities were provided.
How do we know that implementation is occurring? This question is constant in all discussions within the ERLC region. In addition to quantitative data such as numbers of learning opportunities and numbers of participants, ERLC collects qualitative data which provides a glimpse into some of the rich conversations that are occurring among teachers as they reflect on the new curriculum and what it looks like in practice in their classrooms. The following videos are intended to provide only a few examples of the conversations and reflections of classroom teachers around such topics as how to develop conceptual understanding with their students.
Participant feedback has been very positive. In particular, the ERLC received a great deal of feedback on the mathematics institutes that were led by Cathy Fosnot. Some of the feedback included. . . she said she spent the whole morning with one of the two classes she teaches and the kids remained engaged. C was so excited that we put a PowerPoint presentation together to present at the next staff meeting and this morning at our Math Lead Teacher Meeting, BR (who attended Cathy's session) did a presentation on the session. She was so enthusiastic and felt it was a fabulous session. She was so keen that she contacted Pearson and borrowed the K – 3 box of Cathy's materials to show and she even made up a PowerPoint. She is already using some of the things she learned from Cathy in her classroom. Thought you might be interested in hearing about such a positive response to the session.
Senior High Mathematics Institutes were held in January and June of 2010. The January Institute was hosted by the Calgary Regional Consortium. It was videoconferenced out to 12 sites across the province and involved over 500 senior high mathematics teachers. The Edmonton Regional Learning Consortium hosted the June institute and webcast out to 12 sites across the province. Different technologies were used to determine which might be most appropriate as we continue to plan ongoing senior high provincial mathematics institutes. The same speaker was highlighted in both institutes and this has generated a great deal of discussion and "trying out" different strategies in high school classes across the region.

The ERLC mathematics advisory committee provided ongoing crucial advice and support implementation of mathematics in the ERLC region. The committee provided advice and feedback not only about the structure and content of the plan and ongoing refinement of that plan but also about the use of emerging technologies to provide greater access to professional learning for all members of the region and beyond. In particular, the use of videoconferencing and webinars gained greater prominence during the course of the year. This did require greater resources but did also provide greater access for all teachers not only because of the use of the technology to deliver the session but also because many of these sessions were recorded and archived for ongoing use. As a member of the committee, Lori Weinberger in Ft. McMurray noted: In response to the question that was posed regarding evidence of ERLC support for implementation:

alignment of ERLC math sessions to my district's comprehensive PD plan
the support of the PD offerings provided locally (e.g. our district PD day in January)
opportunities for collaboration across our region on common issues (assessment/report cards)
development of resources that support local implementation (parent newsletters, tool kit)

The mathematics regional team consisting of the ERLC mathematics coordinator and four consultants from Edmonton Public Schools was able to provide in district support to ERLC districts. Each district had access to three days of consulting time and a number chose to work together and pool their days. The efforts of the team were greatly appreciated by the region. An example of a comment from a district:   I just wanted to let you know that the math inservice at Westhaven yesterday was awesome!!  Cathy Campbell knew what (as teachers) we would want. Everything was practical and we can use it in our classes.
Lessons Learned 2009-2010
Choice and variety are key elements in providing learning opportunities that meet the needs of teachers.
The use of technology helps to mitigate time and distance however the use of videoconferencing, webcasting, and webinars does require extra time to prepare facilitators and support participants in "being connected". Presenters are not always experienced or comfortable with the emerging technologies and often need extra support in preparation. Technical support is not always readily available and so careful work is done in preparation to test connections and make sure that everything is working as much as possible in advance.
Participants indicate the value of cohort planning groups but sometimes find it difficult to take time away from their classes. This is particularly true for senior high teachers working on semestered classes. At the same time many teachers are not yet familiar enough or comfortable enough with technologies such as webinars to participate in large numbers. Continued support and development will be needed to enhance the use of these technologies. Careful consultation and planning will need to continue in planning all programs, in particular using emerging technologies to delivery learning opportunities.
Implementation takes time. As implementation continues teachers are coming forward with different questions and different needs than were expressed in pre-implementation or during the first year of implementation.