Advisory Committees
Consultation for coordinated, collaborative and comprehensive PD design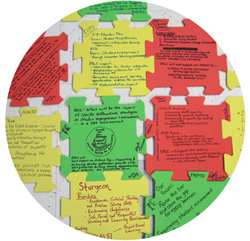 Image:
Zone 3
district contacts
provided district updates – June 2012
ERLC plans learning opportunities based on advice from the region served. Advice and direction is most often received from advisory committee members, district leaders and curriculum coordinators, participant feedback from sessions and education stakeholders. We also rely on provincial stakeholder's direction and leadership, represented by the consortium board. We strive towards collaborating with as many groups as possible to support being a partner in "adult learning for students' sake."
Programs are based on the most up-to-date PD literature as well as Alberta resources such as A Guide to Comprehensive PD Planning and A Guide to Support Implementation – Essential Conditions.
About this page
Advisory Committees provide opportunities for input and direction for ERLC professional development programs and plans. Advisory Committees address the following consortia goals:
To facilitate professional development which supports the effective implementation of:

Alberta Education Business Plan
Jurisdiction and School Education Plans, and
curricula, including instruction, assessment and student learning outcomes,

To promote and support the development of professional development leadership capacity.
Most importantly, Advisory Committees provide a venue for collaboration across the region, district to district. District representatives that attend meetings (most often curriculum coordinators and teacher leaders), share the most important part of the meeting is "district sharing" and networking. During this time, members learn about strategies to support implementation and further develop networks across the region.
Previous Meeting Summaries